The men's fur coat is a fashion icon that has served as a staple in men's wardrobes for centuries. Coming to prominence in the late 1800s among trappers and mountain men, the garment took on mass appeal in the 1920s and 30s. And judging from many designers' current lineups, it is currently experiencing a fashion revival. Here is a brief primer on the fur coat as a fashion item for men, as well as three timeless styles that can be worn every year.
In the 1920's the fur coat became a status symbol among men who proudly wanted to show off their wealth and position in the societal hierarchy. This trend continued through the 30's as furriers refined their use of materials and styles. For instance, between 1929 and 1935, the camel hair coat became a popular garment on university campuses. Today many different types of fur are used, including beaver and raccoon on the value end, and sable or mink on the high end. Each type of fur has its own unique color, texture, and insulating properties.
While different styles have come and gone, the following three have withstood the test of time, and are guaranteed to help you make a statement in any weather.
All-Fur Coat
An all-fur coat is probably the first thing that comes to your mind when you hear the words 'fur coat'. These are typically worn when it is very cold outside because they insulate so well. Due to the naturally full texture of fur, these coats often appear very bulky and may cause the wearer to look larger and more imposing. Typically, the full fur style is considered the boldest.
Fur-Lined Coat
If an all fur coat is a little too much for you, it is still possible to take advantage of the luxury of fur by opting for a coat with a fur liner. These coats use fur on the inside and another material (typically wool) to keep the wearer warm with a more casual and conservative style. A shearling coat is a great example of a fur-lined coat, as it features a suede leather exterior and a soft woolly lining. Many of these coats also feature a removable liner so it can be worn in a variety of seasons.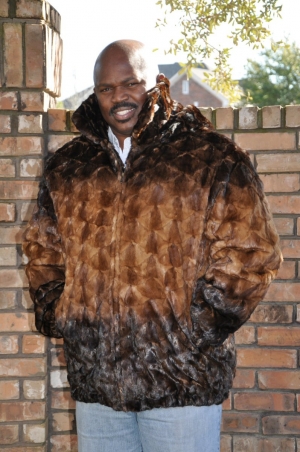 Fur-Collared Coats
For the perfect medium between the two, choose a coat with a fur collar. These are very common styles that blend conservative elements with the timelessness and rugged beauty of fur. The benefit of the fur collar is that it can be paired with any material you can imagine. Polar explorers prefer a fur collar or hood with synthetic materials, while denim and wool coats can be updated with fur finishes as well.
No matter what type of men's fur coat style works best for your wardrobe, you are bound to find it at Aspen Fashions.
Comments Off